Yoko Nishii plays Sergei Rachmaninov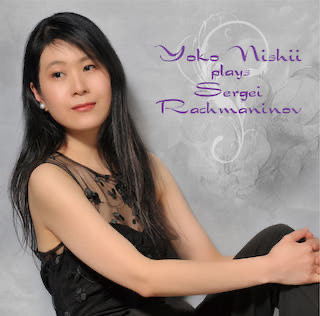 Release Date: July 15, 2020
Sergei Rachmaninov (1873-1943):
・Prelude in C Sharp Minor Op. 3-2
・Lilacs in A Flat Major Op. 21-5
・Prelude in C Major Op. 32-1
・Etude-tableau in C Major Op. 33-2
・Prelude in B Minor Op. 32-10
・Etude-tableau in D Major Op. 39-9
・Prelude in G Major Op. 32-5
・Etude-tableau in E Flat Minor Op. 33-6
・Prelude in G Minor Op. 23-5
・Prelude in B Flat Major Op. 23-2
・Daisies in F Major Op. 38-3
・Piano Sonata No. 2 in B Flat Minor Op. 36 (revised edition, 1931)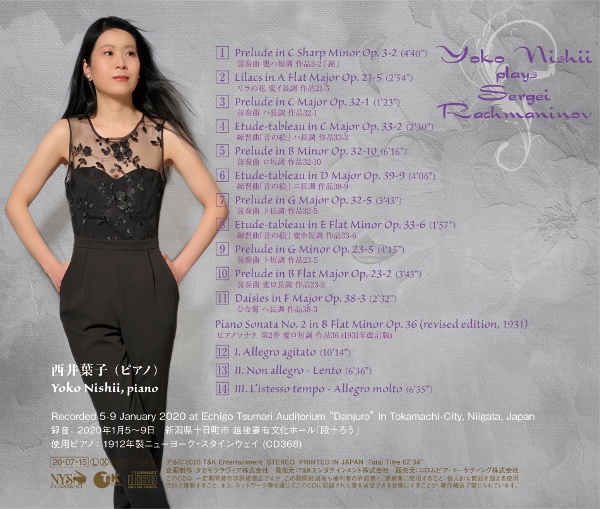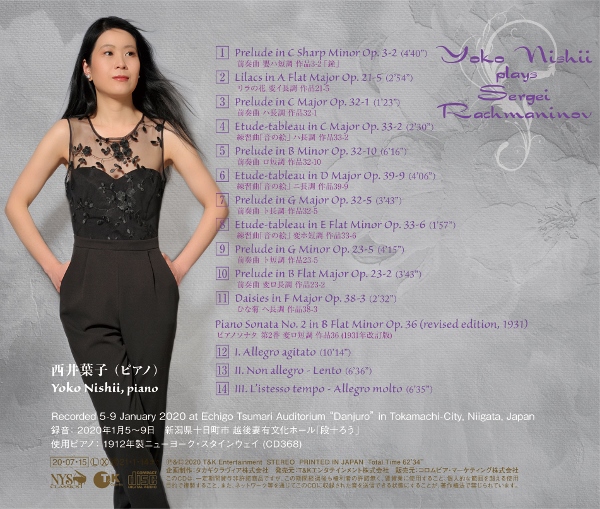 Yoko Nishii (piano: New York Steinway CD368/1912)

Recorded: 5-9 January 2020
at Echigo Tsumari Auditorium "Danjuro" in Tokamachi-City, Niigata, Japan

T&K Entertainment, Inc.
QACK-30018
Distributor: COLUMBIA MARKETING CO., LTD.

~PREFACE~

Rachmaninov is the first and foremost composer whose works I've wanted to record someday. His multiple polyphonic melodies deeply touch the folds of my heart. His inspirational music by the intense inner soul appeals directly to our souls, vibrating, inspiring and releasing our hearts. Among a lot of wonderful piano works composed by Rachmaninov, in this CD album I featured his great masterpiece "Piano Sonata No. 2" which I've been playing for many years, and exhibited his various "Preludes" and "Etudes-Tableaux" together with beautiful flowers – "Lilacs" and "Daisies", lyrical songs arranged for piano by Rachmaninov himself.

While making the recording, I was again lucky to use a wonderful piano by the courtesy of Mr. Yu Takagi, a president of Takagi Klavier Inc. – the New York Steinway (CD368) made in 1912. I already had a chance to use it for the former CD recording of Dora Pejacevic and also for a performance dedicated to the goddess Amaterasu at Ise Shrine. I hope that you would enjoy the magnificent and cosmic expanse of his sound world, along with the charm of the tones themselves of this vintage piano, which breathes the very atmosphere of the time when Rachmaninov was alive.

I would also like to express my deepest gratitude to all others who have assisted and supported me in various ways in making this CD. In particular, great support was given by Tokamachi City which is known as a host town for Croatia for the Tokyo 2020 Olympics. Croatia is my second home where I'd studied and spent seven years. Tokamachi City has a warm friendship with Croatia since the 2002 FIFA World Cup and it was really special for me to get a chance to make the recording at such a city. I hope that this CD would contribute to a further development of a beautiful friendship between Japan and Croatia.

P.S. This album was recorded at the beginning of the New Year 2020, when I had never imagined that our world would face such a horrible crisis caused by a coronavirus. Now when all the world is confronted with unprecedented difficulty, Rachmaninov's music, especially the bells, which are synonymous with his music, sound even more beautiful and sad than before. May the bells around the world sound light and bright again as soon as possible.

March 2020, Yoko Nishii
This discographical project was realized with the generous grant provided by the Cultural Foundation of Okada.
In addition, great support was given to the project as Croatian Host Town Project by Tokamachi-City.
My heartfelt gratitude goes to them.